We are a group of people from many walks of life who love Hungarian dance and music. Our members include students, teachers, professionals, and more. Though some of us are Hungarian or Hungarian-American, most of us do not have Hungarian cultural backgrounds. Csárdás currently performs at many festivals and events, public and private, throughout central Texas.
Current Events:
2012 Beginners class (January 2012)

Csárdás is currently holding a free Széki beginners class! If you are interested in learning Széki, an fun and easy couple dance from the Szék region of Transylvania, feel free to Join us at the Hancock Recreation Center in the back room from 7pm - 8pm. No partner required.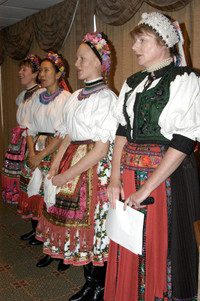 Upcoming Performances
Recent Performances
October 22, 2011 (1:05pm): Texas State Fair Dallas TX
October 22, 2011 (2:45pm): Texas State Fair Dallas TX
October 23, 2011 (10:45pm): Texas State Fair Dallas TX
October 23, 2011 (12:50pm): Texas State Fair Dallas TX
September 3 2011 (4:00pm) WestFest Czech heritage festival in West, Texas
September 4 2011 (2:00pm) WestFest Czech heritage festival in West, Texas
March 26, 2011:Hungarian Festival at the Hungarian American Cultural Association of Houston
March 19, 2011: 53nd Annual San Antonio Folk Dance Festival
June 11-13, 2010: Texas Folklife Festival

Labor Day weekend, 2010: WestFest Czech heritage festival

Fall, 2010: Texas State Fair Dallas TX
March 13, 2010: 52nd Annual San Antonio Folk Dance Festival
December 18, 2009: Zilker Park Trail of Lights
September 5-6 2009: WestFest Czech heritage festival in West, Texas.
March 14, 2009: Thiry Auditorium, Our Lady of the Lake University, San Antonio Texas. We performed a suite of dances from Mehkerek at the San Antonio Folk Dance Festival "Luminaria" concert.

Watch a video of the performance (offsite link)
Repertoire
Bonchidai
Bottle dance
Cigánytánc
Délaföldi
Dunántúli Olahos
Doualatori (Romanian Mezöség)
Gyimesi Csángó
Invirtita From Kalata
Kalocsai
Kalotaszegi
Karikázó
Lakocsai
Lörincrévi
Lörincrévi Pontózó
Méhkeréki
Mezöségi
Nyirségi
Rábaközi
Somogyi
Szatmári
Székely
Széki
Szilágyság
Tubarozsa Csárdás
Tyukodi
Vajdaszentiványi
More Information